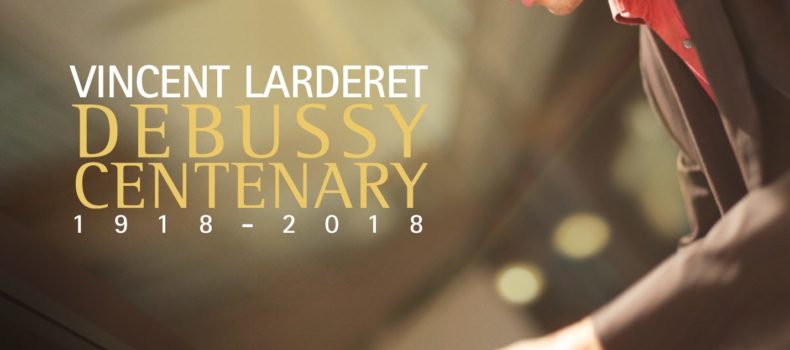 Vincent Larderet – Debussy Centenary – ARS SACD-CD/VL8
$500.00
Vincent Larderet | NEW «Debussy Centenary» ARS SACD-CD
Claude DEBUSSY (1862-1918)
Debussy Centenary 1918-2018
Images – 1ère série (1905) [15:59]
Préludes – Livre II (1911-1912) [37:00]
Symphonic Fragments from Le Martyre de Saint-Sébastien (1911, transcr. André Caplet, revised and completed by Vincent Larderet, world premiere recording) [23:53]
Vincent Larderet (piano)
rec. 2017, Kulturzentrum Immanuel, Wuppertal, Germany
Reviewed in CD stereo
ARS PRODUKTION ARS38240 SACD [79:52]
• Vincent Larderet's new Debussy Centenary ARS SACD wins 5 stars Award of Pizzicato (Luxembourg). | "Vincent Larderet's extremely clear and finely nuanced playing combined with one almost symphonic sound sensibility reduced for the piano, serves Debussy's music very well. On the CD there is also a premiere recording: a suite from Le Martyre de Saint-Sébastien transcribed for piano by André Caplet." – Pizzicato
• [REVIEW@HRAudio.net] "Larderet's star is rising" – Review by Adrian Quanjer @ Blangy-le-Château (Normandy, France)
• First outstanding review of the Debussy Centenary ARS SACD released in HR audio with maximum rating for performance and sound.
• Outstanding review of the new «Debussy Centenary» ARS SACD-CD just published in MusicWeb International in UK. | "Larderet's myriad colour range and radiant textures serve Images 1st series well." | "The Préludes Book II owe their success here to the pianist's sensitivity, refinement, wide-ranging tonal shadings and carefully graded dynamics." | "Larderet is graced with an exquisitely-voiced Steinway, and his sensitive brush strokes and impressionistic sonorities are alluring."
Vincent Larderet ARS PRODUKTION SACD-CD "Debussy Centenary" Charity Sale in Hong Kong. Net proceeds will be donated to the Hong Kong Music and Performing Foundation for charitable purposes, to enhance and publicize the education of music and arts for the future generations.
Description
Vincent Larderet | NEW «Debussy Centenary» ARS SACD-CD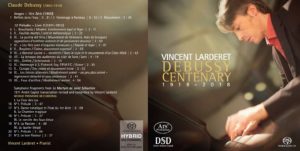 Claude DEBUSSY (1862-1918)
Debussy Centenary 1918-2018
Images – 1ère série (1905) [15:59]
Préludes – Livre II (1911-1912) [37:00]
Symphonic Fragments from Le Martyre de Saint-Sébastien (1911, transcr. André Caplet, revised and completed by Vincent Larderet, world premiere recording) [23:53]
Vincent Larderet (piano)
rec. 2017, Kulturzentrum Immanuel, Wuppertal, Germany
Reviewed in CD stereo
ARS PRODUKTION ARS38240 SACD [79:52]
DEBUSSY CENTENARY | WORLD PREMIERE RECORDING OF 'SYMPHONIC FRAGMENTS FROM LE MARTRE DE SAINT SÉBASTIEN' WON 6 AWARDS (2018, WORLDWIDE)  
• Crescendo Magazine "Joker" (Belgium)
• Pizzicato 5 stars Award (Luxembourg)
• HRAudio 5 stars: Performance & Sonics (France)
• HR2 Kultur CD-Tipp (Germany)
• The RECORDINGS OF THE YEAR of Christoph Schlüren for Neue Musikzeitung (Germany)
• Classica Magazine 5 stars Coup de Cœur (France)
This release has been timed to coincide with the centenary anniversary of Claude Debussy's death which occurs on 25 March 2018. The French pianist Vincent Larderet is on familiar territory, having distinguished himself in his recordings of French piano repertoire. I initially became aware of him when I reviewed his masterful recording of Ravel's Piano Concertos in 2015. A year prior to that my colleague Brian Reinhart raved about his disc of Ravel's solo piano music. Florent Schmitt has also featured in his repertoire. So, it is no surprise that he now turns his attention to Debussy.
Larderet's myriad colour range and radiant textures serve Images 1st series well. These strongly impressionistic works, written between 1905 and 1907, are amongst my favorite Debussy pieces. In Reflets dans l'eau the pianist's limpid argeggios beautifully capture the water ripples with effortless fluidity. Hommage à Rameau harks back to Jean-Claude Rameau's 1737 Castor and Pollux. Refined and elegant, Larderet achieves a noble poise. Mouvement is negotiated with stunning precision and rhythmic energy. I decided, as part of the reviewing process to revisit some old friends. Versions I have admired over the years have been by Michelangeli and Gieseking, and I must say the Larderet's performances stand up admirably by comparison. I also sampled another recently released Debussy recording on Deutsche Grammophon, by a pianist of our own time, Seong-Jin Cho, who includes Images in his recital. I found similar compelling qualities here.
In his Ravel album mentioned above, Larderet played revisions of Ravel's piano version of three excerpts from his ballet Daphnis et Chloé. Unfortunately I have never heard it but, by all accounts, it is musically satisfying. Here once again the pianist puts his arranging skills to good use in a revision and completion of André Caplet's transcription of Symphonic Fragments from Le Martyre de Saint Sébastien. When the score was rediscovered, Larderet was impressed by the quality of Caplet's work. The close bond between Debussy and Caplet was a significant factor in all of this. Larderet decided to flesh out the scoring "to make it more pianistic and colourful and to emphasize its orchestral dimensions". Needless to say, it works very well. There is some luminous chordal voicing in the opening La Cour des Lys Prélude. In Le Laurier Blessé Prélude, dark sonorities emanating from the depths of the keyboard contrast starkly with some pellucid shafts of sunlight.
The Préludes Book II owe their success here to the pianist's sensitivity, refinement, wide-ranging tonal shadings and carefully graded dynamics. He truly gets to the heart of these exotic and evocative pieces. Brouillards, which opens the cycle, is bathed in an impressionistic wash, achieved by lightness of touch and subtle pedalling. La puerta del Vino has a true Habanera lilt to it. The quirky swagger of General Lavine Eccentric captures the very essence of his quirky character, whilst Ondine is clad in a capricious garb. Feux d'artifice, which ends the cycle, is a coruscating tour-de-force. The Préludes enter a crowded playing field; this recording is pitched against some of the finest versions in the catalogue, headed by the likes of Michelangeli and Zimerman. All I can say is that it stands up well.
Larderet is graced with an exquisitely-voiced Steinway, and his sensitive brush strokes and impressionistic sonorities are alluring. The Kulturzentrum Immanuel acoustic is perfect, in my view, with just the right amount of resonance to allow detail and colour to be appreciated to the full. The accompanying annotations in French, English and German by Gérald Hugon are well-written and helpful.
Stephen Greenbank
Outstanding review of the new «Debussy Centenary» ARS SACD-CD just published in MusicWeb International in UK.